Welcome to my personal webpage!
My name is Andrei and I live in Lubny that is located in central part of Ukraine, 200 km on east from Kiev, the capital city of Ukraine. I have several hobbies, but here I will tell about amateur radio. I became interested in radio at the school time, in fact, inherited from my father. My first callsign was UR5HBA, license since 2000. After year I got new - UZ7HO.
Radio communication is multifaceted and includes various aspects of the application. It has been serving faithfully for more than a hundred years since the invention of the first radio.
Many people are on the air, I think that millions of the habitants from around the world. Everyone has his own interest: somebody wants to develop new digital and radio technologies, other - is hunting for rare stations on the air, just to get the excellent trophy like nice QSL-cards or awards. But I must say, currently, HAM-radio spirit and ethic has become much worse than at the dawn of amateur radio. Sad but true... :(
And of course, the most important thing for me is contesting! I like passion and combat spirit during contest time. To win a trophy after 24 or 48 hours of hard work is always a pleasure. :)
With the development of digital information technologies, radio has taken the proper position and is serving as an excellent tool for data transfer worldwide. Currently, different amateur and professional digital radio modes are being developed. Each mode has its own distinction. As you know, the propagation is very unpredictable thing and highly variable depending of the band, so, the good digital mode should provide quality data exchange. I have many ways how to do it, but thats not a matter. I want to say about most popular among amateur digital modes. These modes are: PSK, RTTY, MFSK, Pactor, Packet, and lately the mode which is gaining widespread popularity - JT65.
After a short description about hobby I want to tell about my station. Now, my equipments is very modest, I began my experience with an old home made radio, after a while I bought FT990 transceiver. I think it's a good old radio. I'm using following antennas: Slopped dipole on 40M band @15M high, Delta Loop on 20M band, the apex @15M high, on 15-10M I'm using Yagi antenna of my design, calculated in MMANA, many thanks to Makoto-san JE3HHT for excellent tool!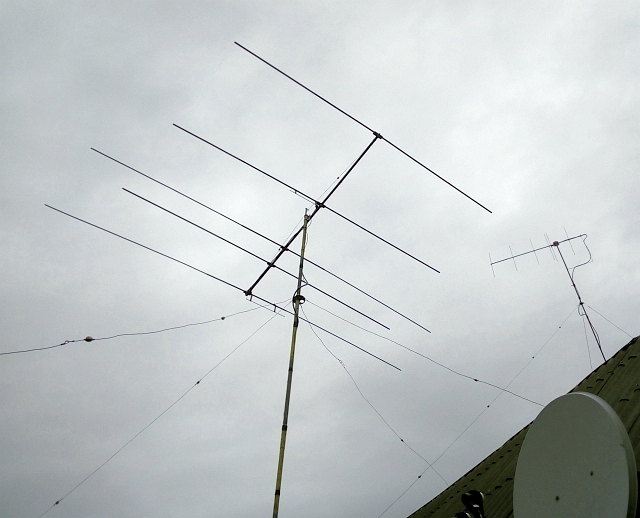 73's de Andrei, UZ7HO