The software Packet-Radio TNC
I am developing a software Packet-Radio TNC that uses a soundcard as a modem and supports AX.25 protocol. It supports such modes: AFSK (300-2400 baud), BPSK (300-1200 baud) in "SoundModem" version and G3RUH (9600-19200 baud), Manchester (1200-7200 baud), HAPN (4800 baud) in "High-Speed Soundmodem" version, with dual port operation. The software Packet-Radio TNC uses the AGW Packet Engine API and emulates the AGW Packet Engine TCP interface. It has been tested on Windows XP, Vista, 7, 8 and has proved stable in operation.
UZ7HO Soundmodem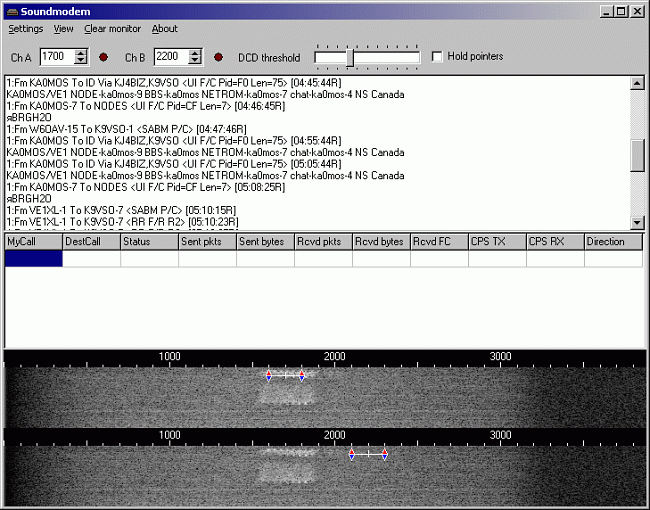 Below you can find a list of required files for download:
---
---
If you like the program and wish to make a donation, just send me an E-Mail to get more information how to do it.
Many thanks for donations to: VK2HL, EU1XX, G7OMN, VE3NFK, VK6UFO, DK3WN, KA3YAN, NS7C, G7GQW, JA0CAW, KB6BT, VU3TYG, K7TMG, PE0SAT, UZ2HZ, HB9JAQ, SV1UY, KB3IUU, RA9SJI, VK2NA, G1ZRN, VU3KAZ, W5PFG, IW0HLG, NM5RM, JR2LLI, VA7RBP, ON6MU, K7MT, W4TTU